Send Inquiry
Solid State Relay Interface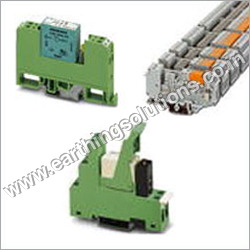 Solid State Relay Interface
Relay & Solid State Relay Interface
We offer clients a wide range of relay and solid relay interfaces which are well known for providing optimum performance. These safe electrical isolation and switching interfaces ensure reliable electrical signal transfer in automation systems. Further electrical isolation in combination with voltage, current & power matching ensures trouble-free operation between control unit & sensor/actuator level.
Features
These are simple to install and start-up.
Consists of 6.2 or 14 mm slim base terminal blocks
Comes with plug gable relays or solid state relays with practical switching capacities of up to 250 V AC/10 A.

Range
PLC Series
DEK Series
PR Series
ST Series
EMG Series

PLC-INTERFACE coming with flexible modular structure is now offered in extended range of relay interfaces including PLC-R and solid-state relay interfaces PLC-O in modular terminal block formats.
Electronic load and reversing load relays
We also offer electronic load and reversing load relays for meeting the requirements of 3-phase networks (Wear-free Switching). These offer
Practically unlimited mechanical life along with same functions as in mechanical contactors.
Triggered with low capacity, they switch electric machines & motors up to 4 kW.
Does not produce any additional high frequency interference during non-contacting switching with power semi-conductors at the zero voltage crossing.
Very compact & fully electronic alternative to mechanical reversing contractor combinations.
Control inputs and the wiring on the load side comes integrated in the module.
Equipped with a protection circuit on the input and output side.
Protect the modules against damaging voltage peaks.
Connected with a minimum of wiring
Guarantee maximum availability of the system.